The Ever-Growing Internet of Things for Healthcare
Over the past decade, healthcare technology has taken a quantum leap, providing new tools to hospitals, clinics and practitioners that improve the quality of patient care while streamlining the many processes associated with the business end of healthcare. Internet of Things (IoT) technology connects healthcare devices to one another, to integrate and document every step of the patient journey, from initial consultation to release.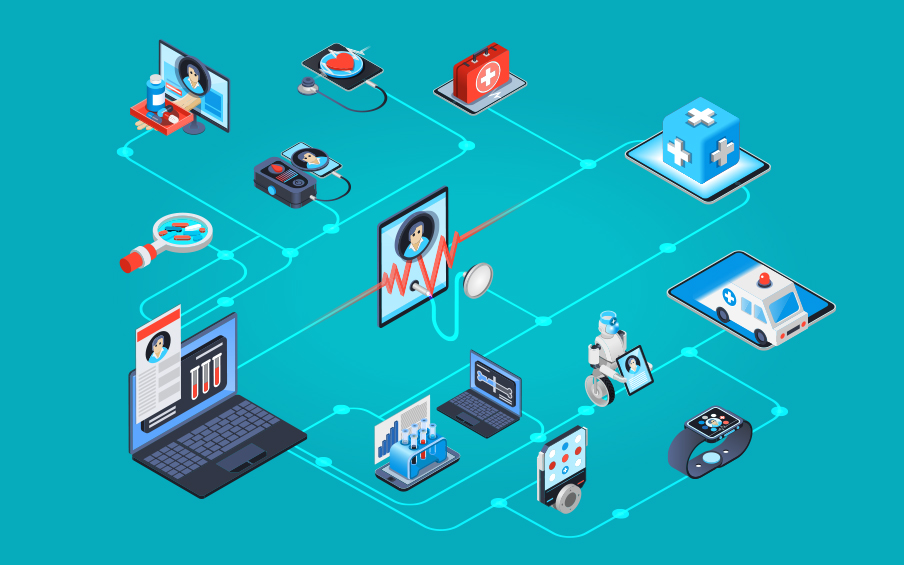 Benefits of IoT Healthcare
Smart healthcare holds promise for both patients and practitioners. It eliminates multiple antiquated business processes and operations, and facilitates better patient-doctor relationships.
Here are just some of the many ways Internet of Things benefits healthcare:
Telehealth: One profound effect of the recent COVID-19 lockdowns was a surge in remote healthcare. Practitioners who had never considered the concept before were quick to find resources to conduct patient visits via Telehealth. The benefits are enormous for patients, protecting them from infections and saving time and energy while providing a convenient way to meet with physicians.
Remote monitoring: Medical sensors and wearable devices make it possible for patients and their healthcare providers to monitor vital statistics like heart rate and blood pressure, keep an eye on blood sugar and insulin levels, calibrate pacemakers, and a broad range of other functions that once required a trip to the clinic. Device health monitoring will be a game changer for the elderly and disabled who find it difficult to commute to medical appointments.
Surgical robotics: Intricate surgeries get a boost from IoT technology that enhances the surgeon's vision, control and precision, ensuring better outcomes for surgical patients.
Electronic healthcare records (EHR): IoT makes it possible for patients and practitioners to access and share real-time medical data, thanks to a connected centralized record keeping system. Data can quickly and easily be shared to labs, specialists, nurses, and anyone involved in the patient's healthcare sphere.
Hospital Information Management System (HIMS): Large medical systems handle an enormous amount of data on a daily basis, which often involves mounds of paperwork. IoT enables HIMSs to go paperless, dramatically reducing costs and manpower while boosting efficiency and accuracy.
Preventive healthcare: Smart medicine of the future will leverage wearable devices to monitor at-risk and elderly patients, and those with chronic diseases, to look for changes that may signal the onset of a worsening condition. For example, data indicating a heart attack or stroke will be sent in real time to the cloud, where doctors can act quickly to intervene.
Smart health insurance: Data captured by monitoring devices can help insurance companies make more informed decisions about pricing, risk assessment, claims and underwriting, increasing accuracy while reducing the incidence of fraud.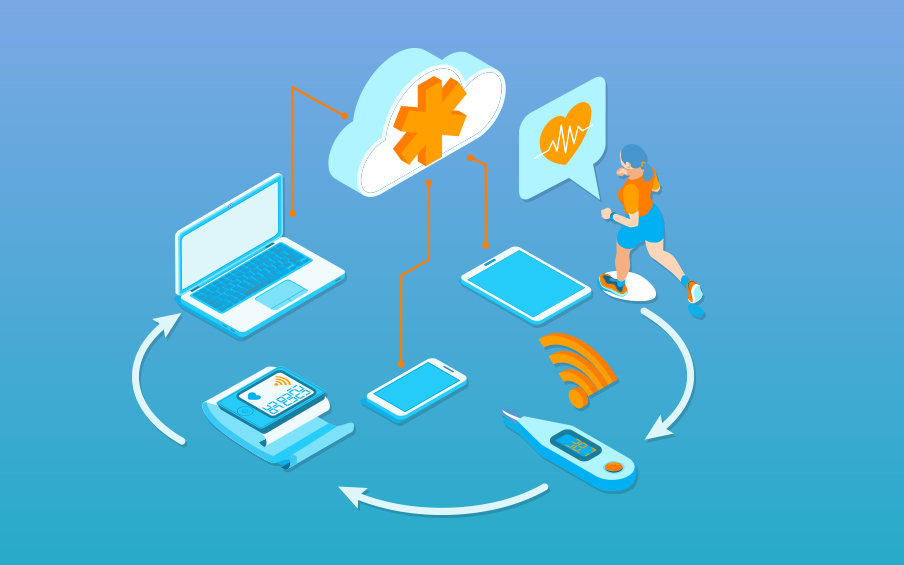 Internet of People
One of the obstacles to implementing the Internet of medical things is getting people to embrace it. The whole IoT idea is to simplify people's lives by letting technology do the heavy lifting. However, technology still has a long way to go, and it is often the case that technological devices create more problems than they solve. For many individuals, the learning curve and complexity of technology makes them reluctant to use it.
Internet of People (IoP) advocates for user-friendly people-centric technology that is easy to adopt and does not create stress or friction. The four fundamental tenets of IoP are:
Recognize social needs: Humans are social creatures, and we interact better with technology when it supports our social tendencies.
Personalization is paramount: Technology should be customizable to reflect the sociological context and profiles of individual users.
Make IoT proactive: Rather than relying on remote interfaces to manage connected devices, users should be able to adjust their preferences, to define how proactively their devices should perform.
Make IoT interactions predictable: Users should be able to depend on consistent and predictable behaviors from connected devices in response to specific prompts and actions. They should be informed of what information they are sharing and who will have access to it, and be able to set their own privacy preferences.
At the end of the day, healthcare is a people business, and technology should serve the people who use it, not the other way around. Medical IoT developers should consider IoP when building technology that will be used and relied on by humans.

How Smart Medical IoT Devices Save Lives
Smart medicine relies on IoT technology to increase accuracy and reduce the incidence and risk of life-threatening human error. Increasingly, IoT is playing a vital role in managing patient conditions and performing lifesaving functions. In many cases, sensors and monitoring devices interact with the patient's smartphone to ensure real-time delivery of vital information to healthcare providers.
Medical alerts: Wearable medical IoT devices are able to detect and report life-threatening episodes such as diabetic comas, seizures and heart attacks, and some new sensors can even detect cancer.
Smart pill bottles: Patient adherence to medications is a common problem in healthcare. Smart pill bottles alert patients when it is time to take their medicine, and send data to the cloud that timestamps when the bottle was opened, and how much medication was removed.
Monitoring devices: Wearable technology allows for the remote monitoring of vital signs, physical activity, body temperature, sleep patterns and other data that help manage the care of patients with chronic medical conditions.
IoT for first responders: Heat and smoke sensors and personal tracking devices help protect firefighters from unsafe scenarios. Improved connected communication devices help first responders interact with one another in dangerous situations. IoT technology provides EMS with lifesaving patient information during transport.
These are just a few examples of how medical IoT is transforming healthcare and impacting patient health. With the field still in its infancy, we can expect to see more innovations in healthcare IoT in the coming decade.

Custom Medical IoT Software from Tateeda
Healthcare IoT is the wave of the future, and your organization cannot afford to ignore it. Tateeda develops customized IoT solutions for the healthcare sector, to help you improve the quality of patient care and streamline your operational processes. Contact Tateeda today, and see how IoT technology can benefit your organization and your patients.