Guide to the Software Development Process 2020
As innovations in technology make inroads into every facet of business and personal life, the demands for more sophisticated and complex software solutions have businesses scrambling to find experienced software development companies who can create next-level solutions to meet their needs.

Fundamental to any software development project is a systematic approach to the development process. With a well-ordered process in place, experienced teams are able to explore creative and transformative possibilities to satisfy their clients' specific requirements.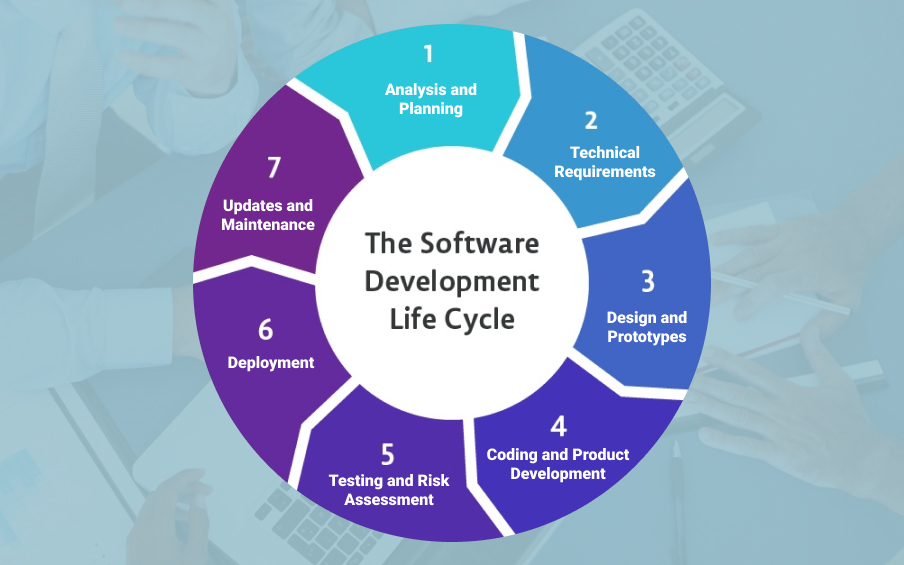 The Software Product Development Lifecycle
Depending on who you ask, the software development lifecycle (SDLC) consists of five to seven stages. The stages of software development cover everything from project requirements to communication with stakeholders, product design and development, testing, and maintenance. All software development projects go through the same stages, regardless of which development approach you use. However their order and sequence may vary, based on your project specifics, goals and team size.

Let's look at all seven stages of the software development lifecycle:

Analysis and Planning: The first phase involves information gathering and strategizing. Before taking on a new project, be sure you have ample human, technological and monetary resources to fulfill the project's requirements. Project managers, developers and other stakeholders should be included in the planning stage. At the end of this stage, you should have a detailed Scope of Work (SOW) that specifies the project's whats, whys and hows.
Technical Requirements: This phase delves deeper into the product's technical requirements. You should come away with clear ideas of what the end product will be used for and who will use it, what problems it will solve, whether it will need to be integrated with existing systems, what data is required, and what the security needs will entail. This is also the stage where decisions are made about the technology stack and testing requirements. You should also begin sprint planning for Agile processes or planning actionable steps for other processes.
Design and Prototypes: This is where you form an idea of how your end product should look, feel and function. Developers may create simple wireframes or prototypes to see how features will interact, or possibly develop a functional prototype to get feedback from users.
Coding and Product Development: With a clear vision for design and functionality, it's time for the dev team to roll up their sleeve and start writing code and piecing it all together, while keeping the SOW in mind.
Testing and Risk Assessment: Testing, tracking and bug fixing are integral to software product development, to reduce the risks of bugs and failures of the finished product. While iterative and incremental processes incorporate testing at every phase, more in-depth testing of the completed product is needed before full deployment. This may involve beta testing with a small group of users, or using UX tools to get an idea of how users interact with the software.
Deployment: Once you have finished testing your product and are satisfied with the results, it's time to release your software to users.
Updates and Maintenance: Customer satisfaction doesn't end with launching a product. As users begin to interact with your software, bugs may arise, additional features or functionality may be requested, and the software must be maintained and upgraded on an ongoing basis.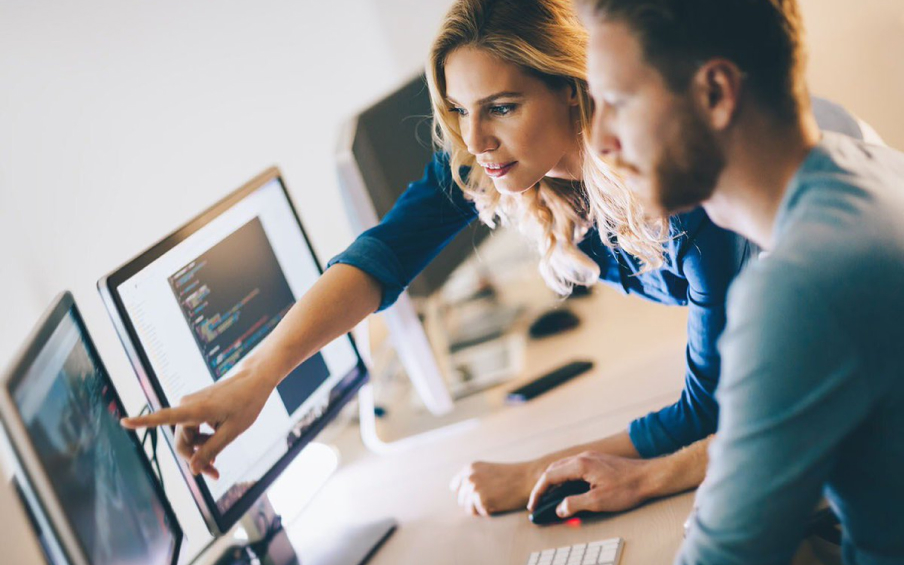 Software Development Process Options
While all software development goes through essentially the same lifecycle, there is more than one systematic approach to the development process. Deciding which to use is the prerogative of the software development company and/or the development team.

Here are several options:

Waterfall: This approach is a traditional linear sequential model that is plan-driven. In this model, all tasks associated with a given phase of the SDLC are completed before progressing to the next phase. With Waterfall, the product testing stage is postponed until after design and implementation, which is perhaps its biggest drawback. Waterfall's rigid structure works best for large projects with specific documentation needs that must be signed off on before the project begins. For example, large projects for government agencies.
Agile and Scrum: Agile is a loosely structured software development process and Scrum is its most popular methodology. Scrum is a dynamic approach that is iterative in nature, where simplified usable software is released to its proprietor for feedback after sprints of 2 weeks to 2 months. The software progressively becomes more complex with each iteration, gaining more features until the end product is completed. The Agile process is well-suited to startups and tech companies who continually update new products. It is less appropriate for projects with tight budgets and rigid timelines.
Incremental: The incremental process is more structured than Agile but follows its practice of creating small increments of software and releasing them to the client for feedback. At each increment, a simplistic version of a function or feature is added, based on feedback. This approach is good for large projects with a structured overall plan that need some flexibility with minimal risk.
V-Shaped: This approach is a variation of Waterfall, but it incorporates testing at every stage. Use the V-shaped approach for smaller projects with specific requirements and limited scope.
Spiral: The spiral approach combines testing and risk assessment with the incremental and iterative nature of Agile. Developers create a prototype of new features and test it with users, assessing it for risks before fully developing it. Results are then evaluated and the next phase is planned. This approach is best for large or critical projects with low risk tolerance. Spiral's calculated approach can be time-intensive and costly, making it less popular among developers than other processes.
Looking Ahead to Future Trends
As the ways we live and work evolve, so will the demands for software products and the processes to develop them. Future software development initiatives will have three key drivers:

Autonomy: There will be a growing demand for systems that can run, manage and repair themselves with minimal human intervention.
Automation: Machine Learning and Artificial Intelligence will play increasingly important roles in software solutions that replicate and replace human labor.
Abstraction: Easy-to-use interfaces will make complex computer processes and functions more accessible to average users.
Forward-thinking software development companies will be on the lookout for talented and experienced developers with a vision for the future to round out their development teams.

Superior Software Product Development at Tateeda
No matter how complex or demanding your software needs are, Tateeda's stellar development team has the expertise and experience to meet your specifications for a superior end product. We test and troubleshoot at every stage of the development process, to guarantee your custom software performs flawlessly without bugs or failures. Contact us today, and let the professionals at Tateeda create a high-performance solution to catapult your company's success in 2020.